Training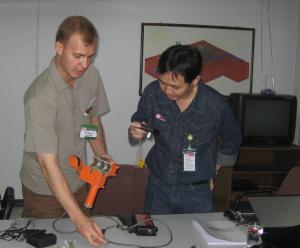 INTRON PLUS regularly trains and certifies specialists for using the INTROS, INTROCON and INTROCOR for their respective NDT purposes.
All of our training is carried out by our skilled multilingual team that has exhausting experience in carrying out the inspection works with the listed equipment.
Our laboratory is equipped with the necessary apparatus and mock-ups to give the trainees a hands-on experience.
Upon the passing of the exam, the trained specialist is issued with an appropriate certificate, that is valid for three years. After the expiry, the specialist must undergo re-certification.
The training syllabus is presently available in Russian, English, Spanish and Portuguese.
Training of the INTROCON is carried out on site at the customer's conveyor.
To enlist for our training or find out more information, please contact us by phone or e-mail.